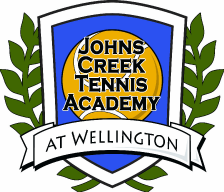 Cardio Tennis is ON
What to expect in each class?
Each class will include:
– Dynamic warm-up
– Dead ball drills
– Conditioning
– Games
– Static stretching
Heart Rate Monitors are strongly recommended for this class.What is Cardio Tennis?
Cardio Tennis is a fun, group activity featuring drills to give players of all abilities an ultimate, high-energy workout. Cardio Tennis includes warm-up, cardio workout, and cool-down phases. If you want to find a healthy way to get in shape and to burn calories come to Cardio Tennis.
Where:
Wellington in Alpharetta
11415 Crossington Rd, Alpharetta, GA 30005
GA 400; EXIT 10. E ON HWY 120 (OLD MILTON PKWY CHANGES TO KIMBALL BRIDGE RD);
3.7M, LT ON JONES BRIDGE RD;
0.5M, RT ON SARGENT RD; 1.0M, RT INTO ENTRANCE ON CROSSINGTON RD; 0.7M, TO CTS AND PARKING.